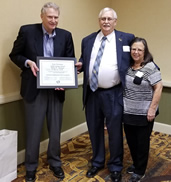 Each year ASFA presents the Gary Forrester Award to an individual for his or her exceptional contribution to our sport. This year the individual that we wish to honor is Bob Jordan.
Bob has been participating in lure coursing since the 1980s. Bob is a great promoter of ASFA and served as Region 8 Regional Director for several terms.
Bob has kept the lure coursing program for the Afghan Hound Club of America on track for many years and is a perennial promoter of ASFA at their National Specialty.
Bob is president of DASH, the ASFA Delegate for the Afghan Hound Club of America and is an Honorary member of the three Hanover clubs. He worked to help qualify the Potomac Afghan Hound Club to host ASFA trials. He was so sick when he worked on the qualifying fun trial that he spent several days in the hospital when it was over but stayed because he believed THE TRIAL MUST GO ON!
Bob has competed in ASFA lure coursing trials for many years during which his Afghan Hounds achieved Number One in the rankings. For many years, he owned several Afghans in the Top Twenty each year.
One of Bob's strongest virtues is his willingness to jump in at every trial and help out where needed, whether arriving early to help with setup, keeping the equipment running smoothly, or operating the lure.
In his participation in and commitment to ASFA and ASFA clubs and his untiring efforts to help out whenever and wherever needed, Bob Jordan exemplifies what Gary Forrester stood for and what this award is all about. For his significant and inspiring contribution to the sport of ASFA lure coursing, we are pleased to present this year's Gary Forrester Achievement Award to Bob Jordan.