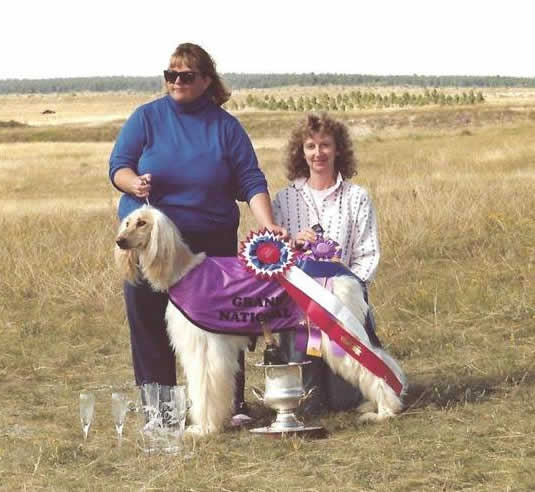 Each year ASFA presents the Gary Forrester Award to an individual for his or her exceptional contribution to our sport. But this year the exceptional contribution that we wish to honor comes not from a single individual, but from a team.
That is the team of Deann Britton and Connie Sullivan. Deann Britton and Connie Sullivan work pretty much hand in hand. They design and set courses, as well as field trial chair and field trial secretary for the Colorado Lure Coursing Association. They do that work for both the Grand National and the International Invitationals that are held in Colorado. Deann is a well-respected judge and has served as an ASFA Regional Director, and both she and Connie operate the lure very well. Connie has been voted Lure Operator of the Year. You may remember what a great job Connie did running the lure for Best in II last October.
Deann and Connie also breed, show and run their Afghans together. Many of their Afghans have been Best in Field / Best in Event winners over the years. Their dogs typically crowd the top of the Afghan Hound Top Twenty list. In fact, they have four in the all-time Top Twenty Afghan list.
In their achievements and commitment, Deann and Connie exemplify what Gary Forrester stood for and what this award is all about. For their significant and inspiring contribution to the sport of ASFA lure coursing, we are pleased to present this year's Gary Forrester award to Deann Britton and Connie Sullivan.