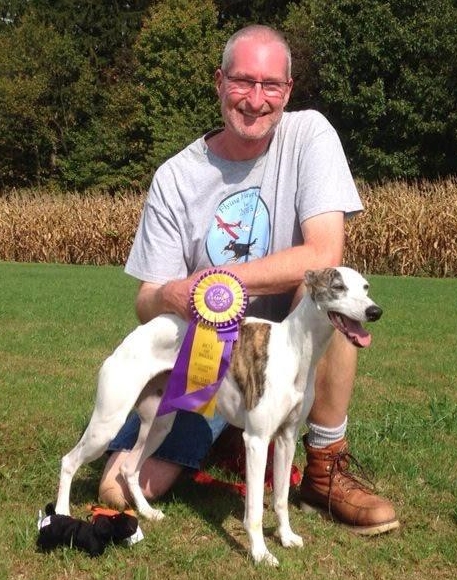 Joe began coursing around 13 years ago with his whippet "Phoebe". The lure coursing bug got him, and he and his wife Caren added more whippets to their household and coursed them to many titles. I think they even moved into a new house for the dogs.
Along the way Joe became enamored with the sport of lure coursing and learned all aspects of working at and hosting a field trial. He has held all positions during a field trial from paddock to huntmaster to lure operator to field trial secretary to field trial chairman. He was named Lure Operator of the Year in 2018 by the Lure Coursing Judges Association (LCJA).
When Joe shows up at a field trial, he steps out of his vehicle ready to help. He comes early and stays late even though he has a long drive home on a Sunday. He is always willing to help in any way he can. He is always willing to share his "tricks of the trade" and will take the time to show anyone interested, how it works.
In 2009, he was Vice President of Michigan Gazehound Association (MGA) and became president a few months later when the then president resigned. He also was the chair of lure coursing for the Raisin River Rhodesian Ridgeback Club of Michigan for several years even though he has never owned a Ridgeback. He has also been an integral part of the American Whippet Club's ASFA lure coursing program.
Joe has been an integral part of many ASFA IIs working with the Tri-State Sighthound Club and Michigan Gazehound Association in various roles a co-FTC, lure operator, and Treasurer for the events. He has also been the FTC for numerous American Whippet Club Specialties. He has amazing organizational skills that makes such a big undertaking run smoothly. His even temper and wry sense of humor goes such a long way to keep things on an even keel when personal feelings have surfaced. Joe has a way of communicating with people that is naturally kind and does not illicit confrontation or make a person feel as though they are being lectured to or that they do not know what they are doing. He is right there ready to help the novice coursing enthusiasts as well as the seasoned and experienced lure courser.
When Ping Pirrung was President of the ASFA, the current recording secretary was unable to attend the Board meeting and the ACoD. Ping asked Joe if he would be willing to fill in, which he graciously did and was subsequently elected to the ASFA Board as the Recording Secretary. During his tenure as Recording Secretary he created a streamlined system for taking minutes for both the Board Meeting and the ACoD. This resulted in the minutes being available to the Minutes Review Committee within 24 to 48 hours versus the weeks it used to take to transcribe the minutes.
Gary Forrester was a man that was always willing to share his knowledge, discuss your ideas as well as help guide newcomers learning the thrill of lure coursing. The Tri-State Sighthound Club feels Joe embodies in his heart Gary's contributions to the sport of lure coursing, dedication and philosophy. Joe Shoemaker is a giver and is more than deserving of the Gary Forrester award that exemplifies all his selfless efforts over the years.