Nancy Aiken
(2016)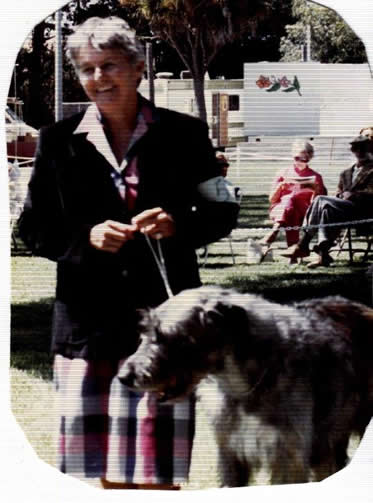 Those of us who have known Nancy over the years can all attest to her iron will, her indefatigable spirit, her no-nonsense approach to judging, her knowledge of hounds and her unfettered work on behalf of ASFA.

Nancy was there at all the meetings in Betz Leon's home with Bud Pine, Lyle Gillette et al. who devised and executed the concept and reality of ASFA. Nancy judged the very first field trial in southern CA in 1972. She was an integral part of writing the first Rule Book, the first Editor of FAN, and helped mold the ASFA into the organization it is today.

Throughout her life she helped lure coursing fans better understand the sport, the hounds, the judging and the enthusiasm and willingness to do the work that a lure trial involves. It would be hard to estimate the number of people she got involved in the sport and a large number of judges were lucky enough to apprentice under her. She clearly defined the art of judging speed, agility, follow, endurance and enthusiasm as parts of the scoring. Hence her contributions earned her the Gillette Award.

As our friend and mentor, Nancy taught us so much about breed styles, the nuances of judging, and helped us become much better lure operators.

She bred many fine Irish Wolfhounds over the years. They excelled both in the ring and on the field. A big fan of open-field coursing, Nancy continued to run her dogs as much as possible throughout her time in CA. Nancy quite often had 5 or more hounds in "top 10"s of both open field and lure coursing. One of her dogs was the only Irish Wolfhound with a tracking title and still may be the only one.

She was for many years one of the half dozen AKC Conformation Judges who was also a Coursing Judge. Nancy served as the representative to the AKC for the Southern Oregon Kennel Club for several terms and was the lure coursing voice on the Herding, Earth dog, and Coursing Committee.

A grand lady and one who genuinely deserves to be in the Hall of Fame. She is an original.